Ahead of the Curve: MD Property Owners – Tax Appeal Deadlines Approaching

Plan Now to Take Necessary Steps to Seek Reductions of Real Estate Taxes in the State of Maryland.
By Jessica D. Lieberman, Esq.
Counsel at Selzer Gurvitch Rabin Wertheimer & Polott, P.C.
---
The 2022 reassessments of properties for real estate tax purposes will be taking place shortly in Maryland. Notices of Assessment will be sent to property owners at the end of December 2021 and the assessed values contained in those Notices will apply to the calculation of taxes for those properties for the 2022-2024 Tax Years. Appeals will be due approximately 45 days after the date the Notices are sent. One-third of properties in Maryland are reassessed each year. The following commercial areas of Montgomery County are among those facing reassessment in 2022: Silver Spring and Kensington, which are represented by area 1 on the below map. We are also able to file tax assessment appeals in many other Maryland counties. If you are uncertain as to whether your properties are being reassessed in 2022, we can assist you.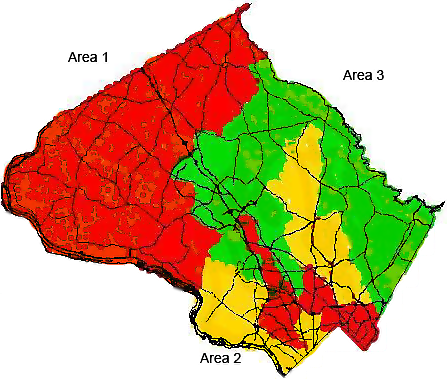 If your income-producing property is not being reassessed this year, but you have experienced a substantial loss of income during the current year, you may be able to obtain property tax relief for the remaining year(s) of the current triennial with the filing of a Petition for Review. The deadline to file a Petition for Review is January 3, 2022.
---
Let Selzer Gurvitch help you.
We can assist you with filing your assessment appeals and Petitions for Review. Please contact one of the following attorneys today!
---
About Selzer Gurvitch
Selzer Gurvitch Rabin Wertheimer & Polott, P.C. is a Bethesda, MD law firm focusing its practice primarily on transactional business, real estate, tax, estate planning, and commercial and construction litigation. For more than 39 years, the firm has served clients throughout the Washington, D.C. metropolitan area. Our lawyers apply traditional values of honesty, integrity, and hard work on behalf of our clients. We ask the right questions, listen carefully to the answers, and collaborate to develop and execute strategies designed to cost-effectively achieve our clients' legal, business, estate planning, and personal objectives. Our attorneys get to know and come to care deeply about the people, businesses, and organizations that put their faith in us. We take tremendous pride in having established many multi-generational client relationships, in which we have earned the same level of trust from those young adults whose parents and grandparents first retained us. Each client, whether new or long-standing, receives our total dedication and commitment to achieve the best possible outcome. At Selzer Gurvitch, we will always stand for resolve, relationships, and results.
---
Disclaimer: The information contained in this material is not intended to be considered legal advice and should not be acted upon as such. Because of the generality of this material, the information provided may not be applicable in all situations and should not be acted upon without legal advice based on specific factual circumstances.